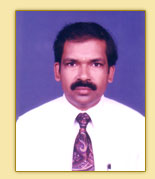 Swarnam Exporters, well renowned export institution established in 1989 for the carving and exporting the idols (Hindu Dieties) in granite stone, Marble, panchalogam (five metals), and in wood like vahanas, Rathams, Puja Mandir etc.,. Apart from these we are also carving the kavachas and Makarathoranas (Thiruvacchi in brass) for the idols.

Swarnam Exporters is headed by Mr.S.Nandakumar, Master in Business Administration, belongs to a Vishwakarma Family. Shri Muthiah Sthapathi, who is awarded the prestigious 'Padmashri' in the year 1990 for the field of sculpture, is the founder for the Swarnam Insititution and we exported thousands of idols throughout the world, wherever, our Hindu community lives.
Our traditional and ancient art of sculpture is originated in India thousands of years back and the same talent is revived and rejuvenated in our sculpturing expertise. Our idols are strictly carved as per the shilpa shastras. Each vigraha carved by us reveals our traditional art of excellence and with rich ornamental work. Almost in all US temples, our vigrahas blesses the devotees. Not only the carving, but also we undertook all the works of formalities with the departments, export packaging, shipping to the port of destination or directly to the temple in overseas.
'WE ARE NOT ONLY CARVING AND EXPORTING THE VIGRAHAS, BUT ALSO ESTABLISHING OUR RICH TRADITIONAL EXCELLENCE THROUGHOUT THE WORLD'.